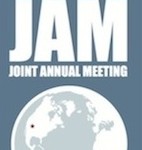 April 7, 2016 – A symposium focusing on international animal agriculture is being planned for Wed., July 20 during the 2016 Joint Annual Meeting (JAM) of the American Society of Animal Science (ASAS), the American Dairy Science Association (ADSA), the Canadian Society of Animal Science (CSAS), and the Western Section of ASAS (WSASAS). The 2016 JAM will be held July 19–23 in Salt Lake City, Utah.
The symposium is entitled "International Animal Agriculture: The Future of Pastoral Production Systems."
The speaker line up includes:
Adegbola Adesogan (Feed the Future Innovation Lab for Livestock Systems, University of Florida)
Anne Mottet (FAO, Rome, Italy)
Maria Wurzinger (BAKU, Austria)
Chanda Nimbkar (India)
Layne Coppock (Utah State University)
Helen Leitch (WorldBank, Delhi, India)
** Please note that the scientific program is still under development.
Download the full symposia list. Check the 2016 JAM website often for updates and program information.