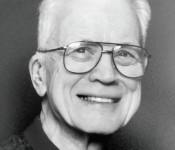 April 11, 2016 – Dr. V. Lineˊ Estergreen died on March 30, 2016 in Pullman, Wash. A physiologist, Dr. Estergreen studied dairy reproductive and lactation physiology in the Department of Animal Sciences at Washington State University from 1961 until his retirement in 1988.
Lineˊ earned a B.S. degree and M.S. degree from Washington State College, served in the Navy, and then obtained a Ph.D. from the University of Illinois in reproductive physiology. While on the faculty at WSU, Lineˊ served the Washington livestock industries as a researcher, teacher and dairy management specialist. He was very proud of all of his graduate students and their successful careers in academics and private industry.
In addition to his extensive contributions to the animal sciences field, Dr. Estergreen will be remembered most as a gentleman in every sense of the word. His kindness, humility, interest in other people and sense of humor will be his true legacy. Dr. Estergreen was preceded in death by his son, Marty, and is survived by his wife of 66 years, Ellene, his brother and sisters, his daughter-in-law and his two grandchildren.
Services will be Saturday, April 16, 2016. The full obituary can be found here.