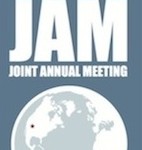 April 21, 2016 – Watch for an email today that contains information about abstract acceptance/rejection for the 2016 Joint Annual Meeting (JAM). 
Sometimes these emails end up in Spam folders, so be sure to look for it in your email. If presenting authors don't receive an email by tomorrow, April 22, please email Samantha Walker at 
samwa@asas.org
. Presentation assignments will follow in 1-2 weeks.