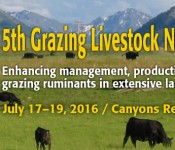 April 21, 2016 – The deadline to submit abstracts for the 5th Grazing Livestock Nutrition Conference has been extended to Friday, April 22.
View the abstract submission site and instructions.
The conference is scheduled for July 17-19, 2016, in picturesque Park City, Utah. It will focus on enhancing management, production and sustainability of grazing ruminants in extensive landscapes.
Please join us for the exciting and informative plenary sessions, posters and networking opportunities at the Canyons Resort in the mountains of Park City.