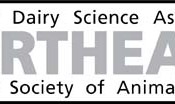 April 21, 2016 – The ADSA Northeast Branch/ASAS Northeastern Section is accepting award nominations for the 2016 awards. The nominations submission deadline for the following Northeast awards is May 6 at 11:59 pm CDT.
Distinguished Service Award
Young Scientist Award – Educator
Young Scientist Award – Research
We hope that you will go online and submit nominees for these outstanding awards in Animal/Dairy Science.