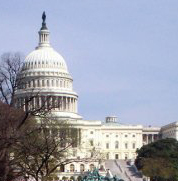 April 25, 2016 – The ASAS Foundation will support five science policy interns in Washington, D.C. this year. Recipients of the 2016 ASAS Science Policy Internship include: Jamee Bell, Alexandra Cantrell, Cordelia Hiers, Morgan Jones and Olivia Woods.
Bell began her internship in February in the office of a congressman. Cantrell, Jones, and Woods also have accepted placements "on the Hill." Hiers has accepted an internship with a nonprofit agricultural organization.
Hiers is the most recent intern to accept the ASAS Science Policy Internship for summer 2016. She is a senior at Murray State University in Kentucky, majoring in Agriculture Science, with a minor in Political Science. Hiers desires to participate in and influence future agricultural policy development. She plans to pursue a career in agricultural law. Profiles of our other four interns can be found
here
. Congratulations to all on their placements in Washington, D.C.!