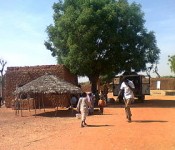 April 25, 2016 – Between 2006 and 2011 more than half of Syria suffered the worst drought in recorded history. As a result, over 1 million Syrians were declared food insecure1 and 3 million fell into extreme poverty2. In the northeastern part of the country, over 85% of the livestock were lost. We have since observed some impacts of this extreme climatic event through its contribution to the current migrant crises as people seek out new living areas. Some reports suggest that up to 150 million people will be displaced globally due to extreme climate disruptions by the later part of the century.
A recent statement released by the Center for American Progress and authored by Tom Daschle and Michael Werz describes this situation and other potential impacts of climate change on food security and global stability. This brief points out that, in 2010, the President's National Security Strategy recognized climate change as a security threat. Agricultural production, food markets, transportation, and water access all become linked to national security policy. Disruptions in these systems can lead to instability and stresses on governments with limited resources.
Animal scientists need to consider resource use for livestock and animal-source food production in climate-smart ways to provide alternative strategies for maintaining food security under conditions of high climate variability and disseminate this information world-wide. One of the ASAS Grand Challenges is "To ensure that animal scientists develop and disseminate strategies for mitigation and adaptation to increasing climate variability."
How are you contributing to meeting this challenge?
_____________________________________
1 The USDA definition of food insecurity is "limited or uncertain availability of nutritionally adequate and safe foods or limited or uncertain ability to acquire acceptable foods in socially acceptable ways".
2 Extreme poverty is defined as earning less than the equivalent of $1.25 per day.
Photo: Wikimedia Commons