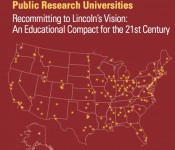 By Kris Johnson, ASAS Public Policy Committee Chair
April 25, 2016 – The Lincoln Project, an initiative of the American Academy of Arts and Sciences, released its fifth and final report recently. This report, Public Research Universities: Recommitting to Lincoln's Vision: An Educational Compact for the 21st Century, presents recommendations for maintaining and strengthening our public research universities. These recommendations draw upon the previous four reports; Public Research Universities: Why they Matter; Changes in State Funding; Understanding the Financial Model; Serving the Public Good.
The conclusions and recommendations of the fifth report focus on the need for public universities to develop new partnerships with state and federal governments, businesses and philanthropic entities that will result in betterment of the American educational system. The document has recommendations for each participant. Broadly, the committee recommended that public research institutions initiate and follow performance metrics, work with the business community and work toward changing the culture to include alternate funding models. Recommendations to state and federal governments include a proactive approach to funding higher education rather than using higher education budgets to balance a budget, enhancing the availability of education to low-income state residents, supporting the nation's "intellectual infrastructure," and reducing unfunded mandates that are barriers to education. The private sector is encouraged to support the public research universities through monetary means, participate and promote partnerships with foundations, work to create pathways for knowledge transfer and advocate for public research universities at state and federal levels.
The document's appendix includes examples of successful programs to create cost efficiencies and generate new revenue streams.
The report was funded by Robert and Colleen Haas, The William and Flora Hewlett Foundation, The Spencer Foundation, Carnegie Corporation of New York and the Thomas and Stacey Siebel Foundation.