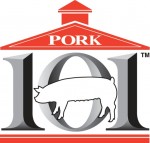 April 28, 2016 – The American Meat Science Association (AMSA) has added two PORK 101 courses this year, in addition to those previously scheduled at Texas A&M University and Iowa State University. Additional courses will take place at the University of Guelph, Ontario, Canada, July 12-14; and Oklahoma State University, September 13-15.
ASAS members will receive a discounted member rate to attend the program.
Register for the University of Guelph PORK 101 course.
Register for the Oklahoma State University PORK 101 course.
* The 2016 PORK 101 courses at Texas A&M and Iowa State are both sold out.