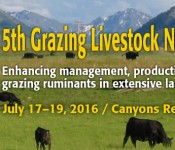 April 28, 2016 – Applications for the 2016 Grazing Livestock Nutrition Early Investigator Travel Award are now being accepted. The deadline to apply for this award is May 15, 2016.
Here are the details:
Nature of Award: $600 toward expenses for attending the 5th Grazing Livestock Nutrition Conference in Park City, Utah, July 17-19, 2016.
Purpose: To promote professional development in young scientists in the area of Grazing Livestock Nutrition.
Time Line: Applications must be received by May 15, 2016. Awardees will be notified by June 10, 2016 and recognized at the conference.
Eligibility for Nomination:
Evidence of work relating to grazing livestock
Early career member defined as a member who is a student, a post doctoral fellow or within 10 years of their Ph.D. graduation date
Must be registered to attend the 5th Grazing Livestock Nutrition Conference
Nomination dossier must contain the following:
A justification of the importance of this opportunity (not to exceed 2250 characters and spaces)
A copy of the applicant's CV
Two letters of support
Send application and nomination letters to: Dr. Joel Caton, Organizing Committee Member, at: joel.caton@ndsu.edu
Visit the conference website for registration, housing, and program information.