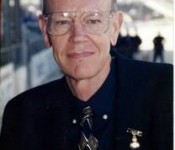 May 2, 2016 – Dr. Harlan Don Ritchie, 81, a Distinguished Professor of Animal Science at Michigan State University, died April 27, 2016.
Harlan graduated from Iowa State University in Animal Husbandry, and began a 47-year career at Michigan State University.
According to an article in Michigan Farm News, Dr. Ritchie was "widely regarded as the man who led beef's transformation in composition, size and growth potential."
His leadership resulted in an industry shift from small-framed, lighter-weight cattle to cattle with "more growth, more lean tissue and red meat, and not as much fat," said colleague and business partner, Ken Geuns, in the Michigan Farm News. 
Dr. Ritchie was the recipient of numerous awards and honors, including induction into the Saddle and Sirloin Portrait Club in 1994, the highest honor awarded in the U.S. livestock industry. Dr. Ritchie also was a recipient of many ASAS awards and honors, including the ASAS Extension Award, the ASAS Animal Management Award, and the ASAS Animal Industry Service Award. He was named an ASAS Fellow in 2001.
Dr. Ritchie is the author or coauthor of 200 scientific or technical articles, 195 Extension papers, 350 trade journal articles and more than 400 newsletter articles. Ritchie has spoken at livestock programs in 38 states, 7 Canadian provinces, 6 Australian states, Argentina, Europe and Mexico. He also authored a book entitled, "Breeds of Beef and Multi-Purpose Cattle," which he wrote in 2009.
The ASAS Foundation Harlan D. Ritchie Appreciation Club was organized to recognize Dr. Ritchie's contributions to the field of beef cattle extension. Funds from the club are used to support a symposium on issues important to Beef Cattle Extension at the ASAS Midwestern Section meeting.
A memorial service will be held at 2:00 p.m. on Friday, May 6, in East Lansing, Mich. Details about Dr. Ritchie's life and memorial service can be found in his obituary.