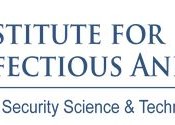 From the Institute for Infectious Animal Diseases (IIAD)
May 5, 2016 – Industry leaders, researchers and partners from around the globe gathered last month for the 2016 Annual Meeting for the Institute for Infectious Animal Diseases (IIAD), a Department of Homeland Security (DHS) Science and Technology (S&T) Center of Excellence. The meeting, held at the Grand Hyatt DFW in Dallas, Texas, was an opportunity for the Institute to provide an update on recent initiatives, discuss the challenges that the agriculture and public health sectors are facing and explore how to combat those challenges through partnership and collaboration.
Of the many ongoing projects at the Institute, the new developments in the AgConnect® suite of tools and "From Bench to Shop" program were specifically highlighted.
AgConnect®, a suite customizable data integration and analysis tools, was recently rebranded and has expanded to include a mobile certificate of veterinary inspection application along with specific apps supporting identified needs for organizations like the National Milk Producers Federation and the Plum Island Animal Disease Center.
"AgConnect® is a decision support system, a modular platform that integrates mobile inputs and disparate data streams, some of which were previously recorded on a back of a napkin or notebook in a truck," said Matt Cochran, DVM, IIAD program director for AgConnect®. "There is a lot of anecdotal management of information in the animal health community; through this system, we're changing that. We're delivering daily use applications and giving options for beneficial changes in business practices."
The new "From Bench to Shop" program, a joint effort with the Texas A&M University College of Veterinary Medicine & Biomedical Sciences (CVM), was also introduced at the meeting. Through a $1.2 million contract from DHS S&T, IIAD and CVM are working to develop and implement a nationwide scientific business development and management educational program to prepare next-generation scientists to transition their research to the marketplace. This innovative program is in alignment with preparing the scientific workforce needed to support the new National Bio and Agro-Defense Facility – a state-of-the-art, high-containment, infectious animal disease research laboratory that will be built by the U.S. Government over the next decade.
The lunch keynote address, delivered by David Franz, DVM, Ph.D., adjunct professor in the department of diagnostic medicine and pathobiology in Kansas State University's College of Veterinary Medicine, focused on his experience with the learning curve associated with the U.S. government's global security engagement programs. Franz summarized the gradual transition from the visionary Nunn-Lugar Cooperative Threat Reduction (CTR) approach of the 1990's to today's Global Health Security Agenda approach of working with international partners – focusing on the importance of building trusted human relationships.
"Although CTR was a great brand, it was eventually changed to 'Global Security Engagement' primarily because the former implied that the partner was a threat – and that's not a positive way to begin a new relationship." Franz said, "How our international partners see us must absolutely be kept in mind in this battle for global health security."
The meeting's dinner keynote was provided by Richard Kock, MA, VMB, VMD, MRCVS, professor of wildlife health and emerging diseases at the University of London's Royal Veterinary College. Through a Natural Environmental Research Council funded project, Kock has studied the mysterious die-off of saigi antelope in Kazakhstan. In May 2015, over two hundred thousand animals – more than three quarters of the world's population – suddenly died within a 350 kilometer radius. Kock and his colleagues have worked tirelessly to find an explanation for this rapid, large-scale mortality – an event that is now clearly due to haemorrhagic septicaemia, a bacterial disease. However, he suspects its sudden emergence across the population may be attributed to environmental factors.
"These were literally healthy animals that were grazing, getting sick and all dying," Kock said. "This could be a very important story to tell. With the idea of climate change, there's going to be flooding here and a heat wave there – that's certainly less threatening than the bacteria in and around us having the ability to adapt this quickly whilst mammals require hundreds of thousands of years to respond. I think there needs to be an international effort to understand this – if there is a climate link, we need to establish it."
With officials from DHS and the U.S. Department of Agriculture, the Institute also led discussions on meeting federal priorities through university-based research and development, advancing agricultural defense and interagency partnerships. In addition, through breakout sessions focusing on identifying policy challenges, transitioning products into use and meeting requirements for diverse end users, the Institute's moderators were able to discuss important topics in small groups and work toward strategically planning the Institute's future.
"Just over the last 12 months, the Institute has accomplished so much and has really grown in both manpower and recognition in the global health community," said Gerald Parker, DVM, Ph.D., MS, IIAD interim director. "The ability to collaborate with partners and work very closely together is key. We're very fortunate to have support from federal and state governments and we're equally as blessed to have the support of our industry partners. Without your strong support and input to help guide us on what you need, we wouldn't be going anywhere."
Headquartered in College Station, Texas, IIAD was founded in 2004 as a Department of Homeland Security (DHS) Science and Technology Center of Excellence. The Institute focuses on research, education and outreach to prevent, detect, mitigate and recover from transboundary, emerging and/or zoonotic diseases, which may be introduced intentionally or through natural processes. In 2014, IIAD was recognized by the World Organisation for Animal Health (OIE) as a Collaborating Centre in the specialty of biological threat reduction. IIAD is the only centre of this kind in OIE's America's region and the only OIE Collaborating Centre within the Texas A&M University System. For more information, visit iiad.tamu.edu.