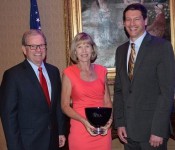 May 12, 2016 – In the Monday, May 9 issue of Taking Stock, we inadvertently omitted the name of a third ASAS member, Dr. Cathy Bandyk, who was recently honored by the American Feed Industry Association (AFIA). Both Dr. Bandyk, of Westway Feed Products LLC, and Dr. Ronny Moser of JBS United, were named Member of the Year.
Dr. Don Orr, an ASAS Foundation Trustee, received the AFIA Distinguished Service Award.
We sincerely apologize for the omission of Dr. Bandyk's name. To read more about all three award recipients, please follow these links:
Two Recipients Named AFIA Member of the Year
Don Orr named recipient of AFIA's Distinguished Service Award
About the photo: (Left to right) AFIA President and CEO Joel G. Newman, award recipient Cathy Bandyk, Ph.D., and AFIA Board of Directors Chairman Rob Sheffer.