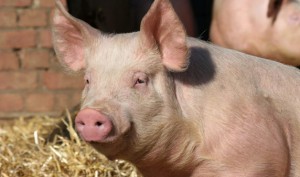 By Jamie Hawley, ASAS Communications Intern
June 13, 2016 – Pigs exposed to ambient temperatures high enough to provoke heat stress change their physiology, metabolism, and behavior to maintain a stable internal environment. As a result, exposure to heat stress may affect the gastrointestinal tract to impair the digestive and absorptive capacity of pigs.
Morales and colleagues at the Universidad Autónoma de Baja California and Evonik Nutrition & Care GmbH have found that heat stress negatively affects the digestive and absorptive capacity of pigs and that the metabolism of some amino acids (proteins) is modified in pigs to counteract the negative effects of the heat stress.
Pigs were housed under natural heat stress conditions in a room with no ambient temperature control (74 to 100°F) or thermoneutral conditions (75 ± 2°F). Blood samples were collected at both absorptive (2.5 hours after a meal) and postabsorptive (10.0 hours after a meal) phases.
All pigs showed normal behavior and consumed their daily meals regardless of ambient temperature.
Small intestine absorption capacity was negatively affected by ambient temperature. Pigs exposed to heat stress conditions exhibited lower serum (blood) concentrations for the amino acids arginine, leucine, lysine, phenylalanine, threonine, and tryptophan.
Pigs housed under heat stress conditions modified the metabolism of the amino acids arginine, histidine, and methionine. Absorptive phase serum concentrations decreased, whereas postabsorptive phase serum concentrations increased. The conflicting response may indicate a difference in metabolic rates between the absorptive and postabsorptive phases or an increased mobilization of those amino acids to tissues with higher demand due to the heat stress conditions.
The authors suggest that these results may become the basis for future work involving nutritional interventions to make animals more capable to cope with high ambient temperatures.
Read more about this research in the recent issue of the Journal of Animal Science: Just Published.