June 20, 2016 – Are you registered for the 2016 Joint Annual Meeting (JAM) in Salt Lake City, Utah? Bringing your family? Make sure to join us from 9:30-4:00 on Thursday, July 21 for JAM Family Fun Day at Hogle Zoo. Discover wonders of the animal kingdom that kids of all ages can enjoy!
With 249 different species and over 800 animals, Hogle Zoo has an incredible diversity of life to see. Exhibits contain creatures from across the animal kingdom including mammals, birds, reptiles, amphibians, fish, insects, and spiders.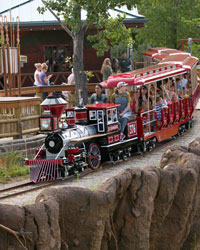 Visit the new African Savannah exhibit and see the three new lion cubs, Brutus, Titus, and Calliope. Tour the African Savannah exhibit by foot or hop on the Zoofari Express (see right) to view the wildlife by train ($2 per ride).
Be transported to another continent in the Asian Highlands exhibit to encounter various big cats, or the Rocky Shores exhibit to view animals native to the coast of North America. Explore the Primate Forest and Great Apes exhibits and Small Animal Building to check out a variety of bugs, reptiles, amphibians, birds, and mammals!
Want a closer view of the animals? Visit Elephant Encounter to watch a daily training session between the elephants and the trainers up-close. Head over to the Discover Theater to pet some small animals and learn about Hogle Zoo's conservation goals. Further interactive experiences including rhino, tortoise, ape, or bird feedings can be purchased for groups through the Wildlife Connections program.
Beat the heat at the FREE Splash Zone (see right). The Splash Zone includes a water slide, jumping water, a tide pool filled with critters to explore, and a "blowhole" that shoots off tons of water every 90 seconds!
Tickets are $35 for Adults (13+) and $30 for Children (12 and under). Space is limited so make sure to register your family today for this fun-filled day of exploration! We will be departing by bus from the hotel at 8:00 and leaving the zoo by bus at 4:00.
If you have not already registered for the 2016 Joint Annual Meeting, visit the JAM website for registration information.
Photos source: http://www.hoglezoo.org/