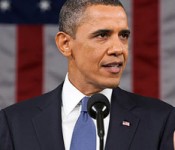 By Tameka Phillips, ASAS Public Policy Committee
June 27, 2016 – President Obama's Budget for Fiscal Year (FY) 2017 addresses five major areas, including funding for several initiatives and programs important to research, agriculture, and animal science. Meanwhile, floor consideration of the House and Senate versions of the FY 2017 Agriculture Appropriations Bill could occur before the July/August Congressional recess. Learn more about the House version here. Information about the Senate version can be found here.

Five major areas of President Obama's Budget for Fiscal 2017:
Building on economic and fiscal progress. View a pdf that discusses funding plans for this focus area.
Innovations in research and development – The Administration says it will invest $152 billion in overall R&D, with both discretionary and mandatory funding proposals. The Budget includes investments in three major ar­eas of agricultural R&D: Agriculture and Food Research Initiative competitive research grants; Agricultural Research Service intramural research; and construction and renovation of key infrastructure, based on the Department of Agriculture's facility modernization plan.
Educational opportunities – The America's College Promise (ACP) is an example of funding geared toward education. Under ACP, the Budget would create new partnerships and fund States that make two years of community college free for responsible students. The Budget also plans to simplify and expand educational tax benefits. The Budget includes $3 billion for competitive funding to create more than 50 "Talent Hotspots" across the U.S., with the aim of attracting and keeping jobs in the U.S.
National security and global leadership – The Budget invests $19 billion in strengthening cybersecurity. The Budget also will continue investment in Feed the Future, the President's food security initiative.
Future policy decisions – The President has stated that policy decisions should be driven by evidence so that the Federal government can work more effectively. Toward that end, the Budget invests in expanding evidence-based approaches, while developing and testing effective practices to enhance the government's capacity to build and use evidence.
Research, agriculture, and animal science funding proposed in the President's budget:
$700 million for the Agriculture and Food Research Initiative (AFRI), including $325 million in mandatory funding. AFRI-supported research would enable USDA to respond to critical problems and challenges facing the Nation such as ensuring an abundant supply of safe water for agricultural uses and improving food safety and quality.
$1.2 billion for the Agricultural Research Service (ARS) programs, which includes increases for current and new programs for pollinator health, agricultural microbiomes, responding to antimicrobial resistance, as well as research on foreign animal diseases, avian influenza, and for safe and abundant water supplies to support agricultural production.
$94.5 million in funding for construction and renovation of key infrastructure investments based on USDA's facility modernization plan.
$106 million investment at (USDA) for competitive and intramural research funding and education to support development of biobased energy sources that range from sustainable and economical forest systems and farm products to increased production of biofuels.
The Administration, while specifically mentioning that the agriculture sector is the largest consumer of fresh water in the United States, proposes to invest $15 million in additional funding for USDA intramural research on safe and abundant water supplies to support U.S. agricultural production and agricultural practices that conserve water, such as building healthy soils that retain water.
The Budget will continue the collaborative effort to provide information on the latest technologies and risk management strategies to help farmers, ranchers, and landowners mitigate the impact of climate change through USDA's regional Climate Hubs. The Budget also includes proposals for USDA's crop insurance program that would incentivize farmers to choose production practices that minimize climate-change impacts, discourage farming on environmentally sensitive lands and highly-erodable soils, and enhance resiliency in the future through soil protection. These include reducing the farmers' subsidy by 10 percentage points for harvest price revenue coverage and reforming coverage for prevented planting.
View the President's Budget for Fiscal Year 2017.