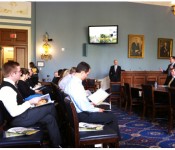 June 27, 2016 – There are many resources at the ASAS Public Policy website to help you better communicate science to non-scientific audiences. One of the latest resources added to the site is a recording of a web chat that focuses on communicating animal science to policymakers.The web chat includes presentations by Dr. Barb Glenn, CEO, National Association of State Departments of Agriculture (NASDA), and Walt Smith, The Mallard Group, LLC. Dr. Glenn begins the web chat by discussing the "grand mission," which she defines as achieving impact through communicating animal science to policymakers. She goes on to discuss why you, as an animal scientist, should be involved in communicating science in the political arena.
"Now more than ever, the need for animal scientists to communicate with policymakers in both the agencies and on Capitol Hill is very critical," Dr. Glenn says.
Following Dr. Glenn's introductory comments, Mr. Walt Smith expands on the importance of advocacy with elected officials, and how to effectively carry scientific messages forward.
"Science has a direct impact on your life and those in your community," Smith says. "No one understands that like you do…and your elected officials need to understand that importance as well."
Access the web chat recording on the ASAS Public Policy page.
The theme of the web chat stems from articles in the July 2015 issue of Animal Frontiers, particularly the article "Strategies for communicating animal science to policymakers in the United States."
Also be sure to access these helpful science communication resources from the Agronomy, Crop, Soil and Environmental Science Societies (ACSESS).