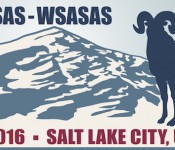 June 27, 2016 – Attending the 2016 Joint Annual Meeting (2016 JAM) next month in Salt Lake City, Utah? Then make plans to attend "Communicating Animal Sciences Effectively," a Contemporary and Emerging Issues Symposium, to be held the afternoon of Wed., July 20, during JAM.
Here is the list of presentations scheduled during the symposium:
* Public perceptions of animal-sourced genetically modified food products, by Bill Hallman, Rutgers University
* What is the science of science communication for, and why should animal scientists care? by Dan Kahan, Yale Law College
* Panel Discussion
* Cracking the code: Making complex information understandable, by Allyson Perry, The Center for Food Integrity
* Communicating animal science effectively, by Daren Williams, National Cattlemen's Beef Association
The 2016 JAM symposia list is available here.