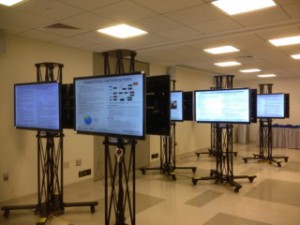 June 30, 2016 – 2016 Joint Annual Meeting poster presentations are going paperless! This year, for the first time ever, all posters will be displayed using electronic screens provided through the company ePosterBoards®. Not only will the technology help reduce paper consumption, but it will also allow presenters to expand their content and create dynamic posters.
The electronic format enables diversified media usage, such as videos and animations. With electronic posters, presenters are able to expand the content they include in their posters by using multiple slides to display their data. While presenting, they can zoom in on their content to make it more visible and interactive for their audience. Presenters should be sure to bring an electronic copy of their presentation on a flash drive to the event.
Presenters will be able to advance a poster presentation manually using navigation buttons embedded in the presentation. A mouse device will be provided with each electronic poster so that presenters can advance their presentation at their own pace.
When viewing a poster, JAM attendees also will be able to zoom in on the content of the poster, as well as manually advance the poster.
Technicians from ePosterBoards® will be available on site to address any technical issues that may arise during the poster sessions.
Technology is opening new frontiers, and utilizing electronic posters will streamline the exchange of new knowledge in animal science!
Image source: http://www.northeastern.edu/itnano/?page_id=135