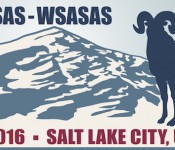 July 7, 2016 – Conference information and the scientific program for the 2016 Joint Annual Meeting are at your fingertips in the JAM Program.
The program has everything you need to plan your time in Salt Lake City, including:
General meeting information, a transportation schedule, sightseeing options, hotel information, special events, pre- and post-conference events, an exhibit directory, maps, meeting and award sponsors, oral and poster scientific sessions, and more.
While you're at JAM, keep up-to-date with the 2016 JAM app! Create a personalized schedule, browse abstracts, view maps of the meeting locations, receive special announcement notifications, and more!
The 2016 Joint Annual Meeting will be held in Salt Lake City, UT from July 19 to 23 at the Salt Palace Convention Center.
If you have not registered yet or would like to add ticketed events, it is not too late.
Register here or update your registration here.