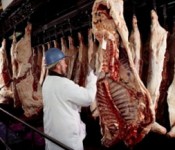 July 7, 2016 – Scientists at West Texas A&M University (WTAMU) recently announced initial results of research involving cloned cattle and efforts to improve both beef carcass quality and yield simultaneously.
The following message from Texas A&M University System Chancellor John Sharp summarizes what the findings mean to the beef industry.
…  our scientists are announcing the initial results of their research involving cloned cattle and efforts to create a herd of cattle that consistently produces the highest quality beef, and more of it per animal.

About five years ago, one of our WTAMU faculty members spotted two "one-in-a-million" beef carcasses in a packing plant. This gave him an idea, so he bought them and brought them back to his research partners. From the steer carcass, they cloned bulls. From a heifer carcass, they cloned cows. They bred those clones, and last month, for the first time, they harvested seven of the offspring. Industry-wide, fewer than one in 20 carcasses grades Prime, but with these cattle – which may be a whole new breed – WTAMU is currently producing Prime beef at a rate of one in seven! 

There is more research to be done, but WTAMU researchers have demonstrated that they have a way to revolutionize the beef industry. 
Learn more about the research in this university press release WTAMU Research Results Signal Potential for Increased Efficiency in Beef Industry.