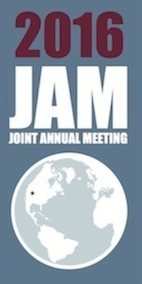 July 11, 2016 –  The abstract book for the 2016 Joint Annual Meeting (JAM) is now available online. With over over 1,000 abstracts from the authors presenting at JAM this year, there will be an abundance of scientific knowledge to be gained by attending the meeting.
Register for JAM 2016 to be sure to connect with an author whose abstract interests you!
Check out the JAM 2016 program for general meeting information, a transportation schedule, sightseeing options, hotel information, special events, pre- and post-conference events, an exhibit directory, maps, meeting and award sponsors, oral and poster scientific sessions, and more.
Additionally download the meeting app to keep updated at JAM!