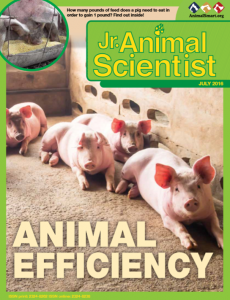 July 11, 2016 – The July issue of Jr. Animal Scientist is on the way to our Jr. Animal Scientist members! This month's issue is all about "Animal Efficiency" and explores different aspects of efficiency in animals including feed conversion ratios, animal products, and edible insects.
A special thank you goes out to the contributors for this issue: Anna Peterson, North Dakota State University, with guidance from Dr. Kim Vonnahme.
If you know a child or classroom that would benefit from a subscription, sign them up today! Individual, family and group memberships are available.
Visit AnimalSmart.org