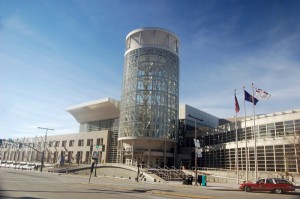 July 14, 2016 – Heading to the 2016 Joint Annual Meeting (JAM)? Please be sure to familiarize yourself with the various amenities provided at the Salt Palace Convention Center during the conference.
Media Check-In & Media Room
A media room will be available in room 150 D of the convention center throughout the meeting to provide a space for media representatives to work. Meeting press releases will be available there. Complimentary registration is available for members of the media. For more information, please contact: asas@asas.org.
Speaker Ready Room
The Speaker Ready Room is located in 250 D of the convention center. This room will be available for speakers from 7:00 am to 5:00 pm on each day of the meeting
Hospitality Lounge
A hospitality lounge will be located in the Exhibit Hall. This lounge will offer attendees an area to relax and network. It also serves as a great meeting location when departing the convention center as a group.
Business Center
The Business Center is your office away from the office! They are an on-site, full service print, copy and shipping center located inside the convention center on the north end of the upper concourse. For more information, contact the Business Center at (385) 468-2228 or businesscenter@saltpalace.com.
Cyber Café
Keep in touch with work, family and friends at the Cyber Café. Located in the Exhibit Hall, the Cyber Café is available to all meeting attendees. The Cyber Café will also have a computer with a printer for limited printing during the meeting
Job Resource Center
The ASAS-ADSA-CSAS-WSASAS Job Resource Center is located in the exhibit hall. Job announcements and CVs will be organized into the following categories for posting: Animal Behavior and Well-Being; Animal Health; Animal Breeding; Companion Animals; Extension; Food Safety; Food Science; Forages and Pastures; Genetics; Growth and Development; International Animal Agriculture; Lactation; Meat Science and Muscle Biology; Nonruminant Nutrition; Pharmacology and Toxicology; Physiology and Endocrinology; Production and Management; Ruminant Nutrition; and Teaching.