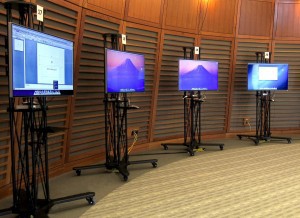 July 14, 2016 – For the first time ever, all posters at the 2016 Joint Annual Meeting (JAM) will be displayed using electronic screens provided through the company ePosterBoards®. The electronic format enables diversified media usage, such as videos and animations.
Wondering how to locate the poster you would like to view? Find the posters you want to view in the back of the program and identify the screen number (second number to the left of the abstract title). Then locate the corresponding screen in the back of the Exhibit Hall. During Poster Sessions only the poster scheduled for presentation will be available for viewing. At all other times, all posters presented throughout the week will be available for viewing on their assigned screens. E-poster technicians are available on-site if you need help finding a poster.
When viewing a poster, you will be able to zoom in on the content of the poster, as well as manually advance the poster.
Presenters will be able to advance a poster presentation manually using navigation buttons embedded in the presentation. A mouse device will be provided with each electronic poster so that presenters can advance their presentation at their own pace.
Technicians from ePosterBoards® will be available on site to address any technical issues that may arise during the poster sessions.
Technology is opening new frontiers, and utilizing electronic posters will streamline the exchange of new knowledge in animal science!