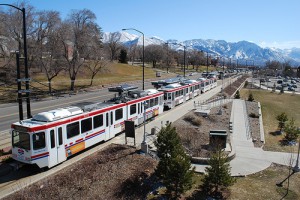 July 14, 2016 – Worried about how to get around Salt Lake City while at the 2016 Joint Annual Meeting (JAM)? There are a number of transportation options for your convenience, whether you prefer to travel by train, bus, or car!
To get from the airport to one of the JAM conference hotels, we have partnered with All Resort Express shuttle service. Discounted rates to the JAM conference hotels is $16.16 round trip and can be booked online or by phone at 1-800-457-9457 ext 2 by mentioning Group Code 11627. Complete details on the All Resort Express offerings, including private car service can be found here.
Public transportation is also provided by the Utah Transit Authority (UTA), with transport to and from the Salt Lake City International Airport. The TRAX/light rail Green Line leaves the airport every 15 minutes on weekdays and every 20 minutes on weekends.  The TRAX stop is located at the south end of Terminal One. To locate the TRAX stop, visit our Airport Terminal Map. Public transportation for passengers with disabilities is provided by UTA's Paratransit program. To make arrangements, contact UTA at (801) 287-7433 and visit the UTA Paratransit Services page for more information.
TRAX Hours of Operation (departing SLC)
5:42 a.m. to 11:27 p.m. Monday – Friday
6:36 a.m. to 11:16 p.m. Saturday
6:20 a.m. to 10:20 p.m. Sunday
UTA also provides public transport by bus or rail around Salt Lake City. Visit the UTA website or download their apps to view schedules and routes.
Visit the JAM transportation page: