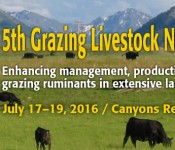 July 18, 2016 – The 5th Grazing Livestock Nutrition Conference (GLNC) is currently taking place in picturesque Park City, Utah. Meeting presentations focus on enhancing management, production, and sustainability of grazing ruminants in extensive landscapes. This year, the meeting has taken on an international perspective with the realization that livestock grazing occurs around the globe in extensive grazing scenarios.
The conference opened Sunday, July 17 with an opening talk from Joyce Turk (US Agency for International Development, retired) discussing the role of grazing livestock in meeting food demands and reducing global hunger and malnutrition. Ron Lewis (University of Nebraska-Lincoln) presented his invited poster, "Are plant waxes reliable dietary markers for cattle grazing western rangelands?"
GLNC continues through Tuesday, July 19. With more than 40 abstract presentations throughout the conference, GLNC facilitates a forum where researchers, practitioners and students can meet, explore advances, and study the science of grazing animal nutrition.
View the GLNC program here.