July 19, 2016 – Utah State University welcomed four ASAS Academic Quadrathlon teams yesterday. Students competed in nine lab practicum stations and a written exam. After a day of intense competition, students got to relax and mingle with the ASAS Board of Directors during a bowling and pizza mixer.
The competition culminates today with the four teams (representing Chico State University, Purdue University, Texas A&M University, and the University of Rhode Island) competing in oral presentations and a quiz bowl.
The overall winner will be announced on Wednesday evening during the ASAS Awards Program.
The AQ program is a platform to integrate more undergraduate involvement at our meetings. Please join ASAS in supporting these young animal scientists!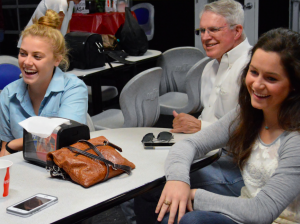 The ASAS National Academic Quadrathlon is sponsored by Elanco Animal Health and National Block and Bridle.
Top photo: The Purdue AQ team at a lab practicum station.
Bottom photo: Members of the Texas A&M AQ team with team advisor, Dr. David Forrest, at the bowling/pizza mixer.