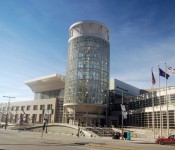 July 20, 2016 – "Animals and Science: Big Solutions for Grand Challenges" was a fitting theme for the Opening Session of the 2016 ASAS-ADSA®-CSAS-WSASAS Joint Annual Meeting, held last night at the Salt Palace Convention Center in Salt Lake City.
The program began with a welcome message from ASAS President, Dr. Michael Looper. Dr. Looper recognized and thanked our partnering societies and staffs, the JAM Program Committees, and Program Chair Dr. Shawn Archibeque. Please join us in thanking our partnering societies, as well as the many individuals who served on the JAM Program Committees. Please also join us in thanking our many JAM sponsors.
Dr. Archibeque welcomed international attendees to JAM. This year, 37 countries are represented at JAM.
The evening included presentation of the FASS-AFIA New Frontiers in Animal Nutrition Award. This year's recipient is Dr. Donald Mahan, The Ohio State University. Dr. Gretchen Hill, Michigan State University, accepted the award on Dr. Mahan's behalf.
Dr. Noelle Cockett, Utah State University Provost, welcomed JAM attendees to Utah and shared an overview of animal agriculture in the state.
Following Dr. Cockett's address, five guest speakers each presented a 3-5 minute "AnimalX" TED-style talk on a topic relevant to the theme of this year's meeting. Speakers included:
Dr. Shawn Archibeque, Associate Professor of Animal Sciences, Colorado State University – "Animal Science Comes From Many Roots — We Must Care for All of Them"
Ms. Melissa Brewer
, Director of Communications, Certified Angus Beef® brand – "Communicating Science in a Sound Bite Society"
Dr. Todd Armstrong, Senior Director, Global Market Access, Elanco Animal Health – "OneHealth: The Need for Alternatives to Protect the Health of Animals, and Ultimately People, Has Never Been Greater"
Dr. Larry Reynolds, University Distinguished Professor of Animal Sciences, North Dakota State University – "Importance of Animals in Agricultural Sustainability and Food Security"
Dr. Garth Sasser, Professor Emeritus, University of Idaho and Founder, BioTracking Inc. – "From Molecule to Meadow" (The story of the discovery of pregnancy specific protein B's and the development of BioPRYN cattle pregnancy tests.)
View the 2016 JAM Program. The Abstract Book also is available as a pdf.