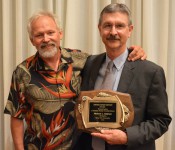 July 22, 2016 – Dr. Michael Galyean is the recipient of the 2016 Western Section of the American Society of Animal Science Distinguished Service Award. This award recognizes those members of the Western Section ASAS who have made the most outstanding contributions to animal agriculture in the western region. As such, this award is the most prestigious honor that the Western Section ASAS bestows upon its members. Dr. Galyean was honored for this award at the WSASAS Awards Ceremony in Salt Lake City, Utah.
Dr. Galyean's many contributions to ruminant nutrition research and graduate education throughout his extraordinary career are too numerous to list within the confines of this citation.   The arc of Dr. Galyean's career has demonstrated a continuous and cumulative path of progress and achievement. Dr. Galyean received his B.S. in Agriculture from New Mexico State University in 1973, and his M.S. in Animal Science (1975) and Ph.D. in Animal Nutrition (1977) from Oklahoma State University.  He has held the position of professor of animal science at New Mexico State University, West Texas A&M University/Texas A&M University and at Texas Tech University where he is a Paul Whitfield Horn Professor and holds the Thornton Distinguished Chair in the Department of Animal and Food Sciences.
Since 2012, Dr. Galyean has served as Dean of the College of Agricultural Science and Natural Resources at Texas Tech University.  In addition to his other duties, Dr. Galyean continues to be involved beef cattle nutrition and management research.  During his career, Dr. Galyean and his students have authored 242 peer-reviewed journal articles, 59 invited papers and book chapters, 83 published proceedings and experiment station articles, 72 published progress reports, and 194 published abstracts.  According to Science Citation Index, Dr. Galyean's published works have been cited 4,855 times as of March 2016.  Twenty-nine M.S. students, 33 Ph.D. students, and 9 post-doctoral research associates have worked under his guidance, and his research has been supported by more than $2.6 million in grant funds.
Dr. Galyean has also contributed his time by serving on the NRC Subcommittee on Beef Cattle Nutrition and the NRC Committee on Animal Nutrition.  He was Secretary-Treasurer, President-Elect, and President of the Western Section of ASAS and a member of the Board of Directors of ASAS.  From 2006 to 2009 he served as President-Elect, President, and Past-President of ASAS.  Dr. Galyean also served three terms on the Editorial Board of the Journal of Animal Science, one 3-year term as a Section Editor and as Editor-in-Chief from 2002 to 2005.  Dr. Galyean is currently the Chair of the NRC Committee on Nutrient Requirements of Beef Cattle.  Dr. Galyean has been previously recognized for his contributions by being the recipient of numerous awards which include Young Scientist Award, Western Section, American Society of Animal Science (1988); American Feed Industry Association Ruminant Nutrition Research Award, American Society of Animal Science (1999); President's Academic Achievement Award, Texas Tech Univ. (2005); Animal Management Award, American Society of Animal Science (2006); Fellow, American Society of Animal Science (2010); Morrison Award, American Society of Animal Science (2012); and FASS-AFIA New Frontiers in Animal Nutrition Award, Federation of Animal Science Societies (2013) to name only a few.
Dr. Galyean's many accomplishments reflect his continuing commitment to advancing knowledge through innovative research and support of education so that this knowledge can be applied to make improvements in animal agriculture.