By Jamie Hawley, ASAS Communications Intern
July 22, 2016 – Dr. Clint R. Krehbiel has been named the recipient of the American Society of Animal Science (ASAS) American Feed Industry Association (AFIA) Award in Ruminant Nutrition Research by the ASAS during its annual meeting in Salt Lake City, Utah.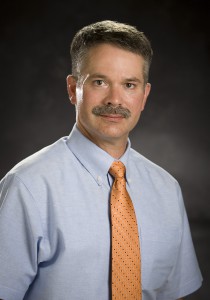 Dr. Krehbiel was raised on a diversified farm near McPherson, Kansas. He holds B.S. (1988) and M.S. (1990) degrees from Kansas State University and a Ph.D. (1994) from the University of Nebraska. Dr. Krehbiel was a postdoctoral fellow at the U.S. Meat Animal Research Center near Clay Center, NE. He then spent 3.5 years on the faculty at New Mexico State University before joining the faculty at Oklahoma State University in January 2000. Dr. Krehbiel holds a split appointment between administration (50%), research (40%), and teaching (10%). He is a Regents Professor, the Dennis and Marta White Endowed Chair in Ruminant Nutrition and Health, and the Assistant Department Head of Animal Science at Oklahoma State University.
Dr. Krehbiel's research interests include understanding relationships involving ruminal fermentation, gut metabolism, and nutrient absorption to improve health, growth, feed efficiency, and end-product quality of beef cattle. He also studies the impact of bovine respiratory disease on immune function, gene expression, nutrient metabolism, animal performance, and carcass merit.
Dr. Krehbiel has published over 500 refereed journal articles, book chapters, abstracts of papers presented at scientific meetings, Agricultural Experiment Station research reports, and conference proceedings. He has served as principle investigator or co- principle investigator on more than $5.5 million in grant funding to support collaborative research. Dr. Krehbiel and his wife Shelly reside near Stillwater, OK with their three daughters.
The ASAS AFIA Award in Ruminant Nutrition Research stimulates research excellence in ruminant nutrition. The research upon which the award is based is original and published in the 10 years immediately preceding the award. The ASAS AFIA Award in Ruminant Nutrition Research is sponsored by AFIA.
The ASAS is a professional organization that serves more than 6,000 students, animal scientists, and producers around the world.