By Jamie Hawley, ASAS Communications Intern
August 1, 2016 – Dr. Paul A. Beck was named the recipient of the 2016 American Society of Animal Science (ASAS) Animal Management Award by the ASAS during its annual meeting in Salt Lake City, Utah.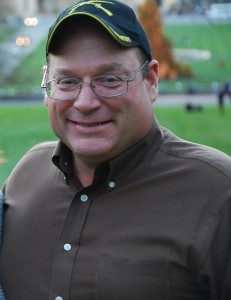 Dr. Beck received B.S. and M.S. degrees in Animal Science from Oklahoma State University in 1990 and 1993, respectively, and his Ph.D. in Animal Science in May 2003 from the University of Arkansas. Dr. Beck is currently a Professor of Animal Science at the University of Arkansas Southwest Research & Extension Center in Hope, Arkansas. Because of his experiences in production agriculture with first-hand knowledge of the importance of production efficiency, Dr. Beck's research and Extension programs focus on the study of systems for sustainable, economical, and environmentally sound production practices.
Dr. Beck's research includes forage-based systems for cow-calf and stocker cattle operations in the Southeastern United States, backgrounding diets for growing cattle, and the effects of pre-finishing management on finishing performance and carcass quality. Dr. Beck and his wife Melissa have three children Richard (US Army), Matt (Oklahoma State), and Mary Kate (University of Arkansas).
The ASAS Animal Management Award stimulates research excellence in biological or production management and recognizes those who have made significant contributions to production management. The research upon which the award is based is basic or applied research in animal behavior, environmental science, economics or other biological or production management and published in the 10 years immediately preceding the award. The ASAS Animal Management Award is sponsored by Merial Limited.
The ASAS is a professional organization that serves more than 6,000 students, animal scientists, and producers around the world.