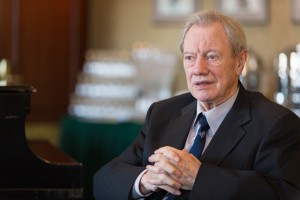 August 4, 2016 – Dr. Thomas Sutherland, Professor Emeritus at Colorado State University, passed away in his Fort Collins, CO home on July 22, 2016 at the age of 85.
Dr. Sutherland is remembered as a man of many talents, good humor, and incredible generosity. In addition to his role as a professor, Dr. Sutherland was also a supporter of the arts, one-time actor, co-author of a book, and freed hostage in Beirut.
Dr. Sutherland received a B.S. in Agriculture degree from the University of Glasglow in Scotland. He achieved his M.S. and Ph.D. in Animal Breeding from Iowa State University. From there he joined the faculty at Colorado State University (CSU) teaching animal science. Dr. Sutherland accepted a position as Dean of the Faculty of Agriculture and Food Science at the American University in Beirut in 1983. Two years later, he was kidnapped by the Islamic Jihadists and was held hostage until his release in 1991. Dr. Sutherland returned to Fort Collins after his release to much celebration. Dr. Sutherland was given the title Professor Emeritus by Colorado State University upon his return.
In 2014, Dr. Sutherland received the annual Founders Day Medal, in honor of his contributions to CSU, Fort Collins, and higher education worldwide. According to CSU's website, this medal is given "to those whose pioneering efforts have had an extraordinary influence on the character and development of CSU."
Dr. Sutherland and his wife established the Sutherland Family Foundation, which supported many local Fort Collins non-profit organizations. The Sutherland family also made many generous donations to scholarship funds, community organizations, and local art groups.
At the age of 72, Dr. Sutherland starred in his first and only acting role in the movie "A Lesson from Aloes." With his wife, he co-authored a book, At Your Own Risk, chronicling his experience as a hostage alongside his wife's experiences waiting for him to be freed.
Dr. Sutherland is survived by his wife of sixty years, Jean Sutherland, his three daughters, Kit Sutherland of Fort Collins, Joan Sutherland Sears of Portland, Ore., and Ann Sutherland of Virginia, as well as several grandchildren.
A public celebration of Dr. Sutherland's life is being planned by family and friends for a date in mid-August in Fort Collins.
Photo credit: CSU Photography