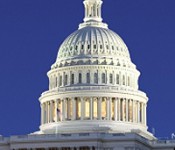 By Cassie Welch, ASAS Public Policy Committee
August 29, 2016 – On July 20, President Barack Obama signed into law the Global Food Security Act – a bipartisan bill expanding food security priorities and the ability to build capacity for agricultural growth in developing nations. The signing was applauded by agricultural and global development sectors during the White House Summit on Global Development, which was held on the same day as the signing.
The new law, S. 1252, provides authorization of more than $7 billion for international agriculture and food programs and requires the executive branch to coordinate efforts of relevant federal agencies to address global food security and malnutrition.
Obama referenced the act as a means of reaching those most affected by food insecurity and as a way to ensure programs, such as Feed the Future, "endure well into the future." As a presidential initiative created in 2009 by the Obama administration, Feed the Future has helped reduce poverty up to 26% and provided improved nutrition to nearly 18 million more children in areas where its programs are active. In 2015, Feed the Future reached over 9 million smallholder farmers around the globe, whereby the adoption of improved agricultural practices has helped to increase their incomes by more than $800 million.
President Obama expressed his gratitude to Congress for passing this overwhelmingly bipartisan piece of legislation that reaffirms the United State's commitment "to improving the lives of rural poor people around the globe through investments in more productive agriculture and better nutrition." Similarly, USDA's Secretary of Agriculture, Tom Vilsack, released a statement sharing his support for the Global Food Security Act and stating, "Feed the Future represents the best of our American values – compassion, innovation, collaboration, and progress toward a world free of hunger and inequality."