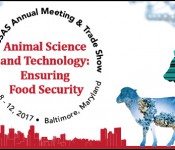 Sept. 1, 2016 – Join us for the 2017 ASAS-CSAS Annual Meeting and Trade Show in Baltimore, Maryland from July 8 to 12, 2017. Special pricing now available!

Register today to take advantage of the limited time offer of a $300* registration fee for both Professional members and nonmembers by using the Promotional Code AS17Pre online. Available through September 19, 2016.
As many of you are aware, this is the inaugural year of the ASAS-CSAS Annual Meeting and Trade Show. Therefore, we have three main goals for the 2017 meeting:
To present high quality, relevant science that links animal science and animal agriculture
To return to our roots, by having a number of the social events that will enhance networking and add a family feel to the meeting
To create a successful and sustainable new meeting model
View the meeting registration brochure for full meeting details.
See you in Baltimore!
*Enter Promotional Code AS17Pre to receive the special pricing.  By registering with the special code, you agree to receive a 50% refund instead of the standard refund policy if you need to cancel your registration.