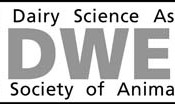 The annual meeting of the Midwestern Section ASAS and Midwest Branch ADSA® will be held in Omaha, NE, on March 13-15, 2017. Members are encouraged to submit abstracts of papers for oral or poster presentation. The deadline to submit an abstract for this meeting is October 26, 2016, at 11:59 pm CST.
Abstracts not meeting this deadline will be rejected. All abstracts must be submitted electronically. Other criteria for acceptance or rejection will include those outlined in the "Instructions for Abstract Submission," which may be found on the Abstract Submission site: https://asas.confex.com/asas/mw17/cfp.cgi
Due to space restrictions, submissions are limited. Space limitations allow a maximum of 400 words, not including title, authors and institutions. Abstracts that are too long will be rejected automatically by the system. It is recommended that all abstract components (title, body, and table) be copied directly from a word processing file. The formatting and special characters will carry over directly into the abstract system.
Abstracts can be submitted for oral presentations, poster presentations, the Graduate Student Competition (oral and poster), or the Undergraduate Research Abstract Competition (oral or poster). Learn more about types of abstracts in the Instructions for Abstract Submission on the Midwest website.
Presenters will be expected to submit PowerPoint shows for their oral presentations. Each session room will be equipped with a computer and an LCD projector. Additional information on uploading presentations will be available closer to the meeting.
If you have any questions, please contact the ASAS Business Office at asas@asas.org.
We look forward to seeing you in Omaha!
Additional meeting information may be found at https://www.asas.org/membership-services/asas-sections/midwest-section/meetings