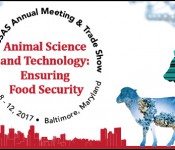 Sept. 1, 2016 – The 2017 ASAS-CSAS Annual Meeting and Trade Show Overall Program Committee is looking for submissions from both committees and the general membership for platform speakers. Submit your suggestions by September 28, 2016.
As our society enters into a new era of opportunities, the 2017 program committee will build upon our recent successes and continue to revitalize our annual meeting. In 2017, the annual meeting program will offer symposia that feature current issues, technologies and scientific discoveries under the umbrella of global food security.
To further expose membership to leading scientists and unify short presentations within a topic, platform speakers will be introduced as anchors to existing sessions. This subtle change allows for the incorporation of greater numbers of talented speakers into the program by removing structured programmatic barriers.
ASAS and CSAS are looking to refocus on 12-minute talks by reducing the number of symposia and adding 45-minute talks to the beginning of general sessions.
We are excited to begin creating the 2017 annual meeting and ask for your input on platform speakers.
Join us for the 2017 ASAS-CSAS Annual Meeting and Trade Show in Baltimore, Maryland from July 8-12, 2017.