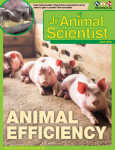 Sept. 1, 2016 – Give the gift of a Jr. Animal Scientist subscription to an elementary school classroom or group in your area! The cost is only $5 per student! Each student will receive a copy of the Jr. Animal Scientist magazine, which is published in January, March, May, July, September, and November.  
The magazine features articles about animal science concepts, interesting careers, and activities for kids. Students also receive access to exclusive content at
AnimalSmart.org
. Teachers receive a monthly e-mail newsletter to supplement information found in the magazine.