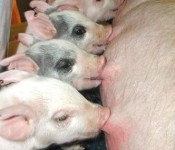 Sept. 15, 2016 – ASAS is pleased to announce that the Triennial Lactation Symposium and Biology of Lactation of Farm Animals (BOLFA) will occur at the front end of the 2017 ASAS-CSAS Annual Meeting and Trade Show. Triennial Lactation/BOLFA will occur as a pre-conference on July 8, 2017. The speaker line up is one of the most impressive in BOLFA history.
Currently, meeting registration is reduced to an all-time low, if you register by September 19, 2016. To encourage preregistration for BOLFA, we are cutting registration in half if you register in conjunction with the early meeting registration.
Register for BOLFA and the Annual Meeting by September 19, 2016 and the cost for both is only $355! Enter Promo Code AS17BOLFA to receive your discount.*

BOLFA 2017 Symposium
Baltimore, MD, July 8th, 2017
"The biology of lactation – from genes to cells to milk"
Speakers and titles:
Bob Collier (University of Arizona, USA) – "Historical perspectives of lactation biology in the late 20th and early 21st centuries"
Mike Akers: (Virginia Tech, USA) – "Plasticity of mammary development in the prepubertal bovine mammary gland"
Russ Hovey (UC Davis, CA, USA) – "Dietary regulation of allometric ductal growth in the mammary glands"
Steve Davis (New Zealand) – "Quantitative regulation of mammary development"
Marie-France Palin (AAFC, Sherbrooke, Canada) – "Adipokines affect mammary growth and function in farm animals"
Tom McFadden (University of Missouri, USA) – "Lactational adaptations to environmental challenges"
Geoff Dahl (University of Florida, USA) – "Programming and epigenetic impacts of late gestation heat stress in dairy cattle"
Laura Hernandez (University of Wisconsin, USA) – "Serotonin and the regulation of calcium transport in dairy cows"
Rupert Bruckmaier (University of Bern, Switzerland) – "Pathogen-specific immune response and changes in the blood-milk barrier in the bovine mammary gland"
View the meeting registration brochure for full meeting details.
Join us for the 2017 ASAS-CSAS Annual Meeting and Trade Show in Baltimore, Maryland, July 8 to 12, 2017.
*Enter Promotional Code AS17BOLFA to receive the special pricing.  By registering with the special code, you agree to receive a 50% refund instead of the standard refund policy if you need to cancel your registration.
Photo courtesy of the Animal Science Image Gallery