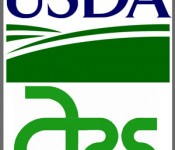 By Dr. Larry Reynolds, Taking Stock Contributor
Sept. 19, 2016 – The Agricultural Research Service's Animal Handling and Welfare Review Panel (ARS-AHWRP) received the prestigious Abraham Lincoln Honor Award during ceremonies held September 12-13 in Washington D.C. Members of the Panel, all of whom were present to receive the award, included Aaron Olsen, Chair, Utah State University; Lonny Dixon, University of Missouri; Stephen Ford, University of Wyoming; Mo Salman, Colorado State University; and John Clifford, Animal and Plant Health Inspection Service, USDA, Ex-Officio Member.
Michele Esch, Executive Director of the USDA's Research, Education and Economics Advisory Board Office, coordinated the Panel. The ceremonies were held at USDA headquarters in the Jamie L. Whitten building on the National Mall.
A successor to the Secretary's Honor Award, the Abraham Lincoln Honor Award was established in 2014 and is the most prestigious award presented by the Secretary of Agriculture. The award recognizes "noteworthy accomplishments that significantly contribute to the advancement of USDA's strategic goals, mission objectives, and overall management excellence." The theme for this year's ceremony was, "USDA – Strong Service and Superior Results."
The Animal Handling and Welfare Review Panel was established in 2015 by Secretary of Agriculture Tom Vilsack "to review ARS agency-wide research animal care and well-being policies, procedures, and standards for agricultural livestock in ARS research." Phase 1 included an immediate review of the U.S. Meat Animal Research Center (USMARC), which was in response to a January 19, 2015 New York Times article alleging that research involving farm animals at USMARC had "come at a steep cost to the center's animals…" Phase 2 charged the panel with reviewing an additional three to five ARS locations where livestock research is conducted. All reviews for both phases also involved site visits by the Panel.
The Panel's final report and recommendations were released March 30, 2015. Additional information on the Panel's report can be found in Taking Stock, August 31, 2015