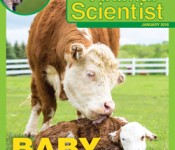 Sept. 22, 2016 – Looking for the perfect kid's birthday present? Give a gift subscription to Jr. Animal Scientist. The magazine is ideal for ages 5-9, so sign up those K-3rd graders!
You also may want to give a local elementary school classroom a classroom subscription. The cost is just $5 per student.
Visit AnimalSmart.org today to sign up for an individual, family, or classroom subscription!
We always welcome your ideas for upcoming issues! The magazine is published in January, March, May, July, September, and November.
Questions? Email kims@asas.org