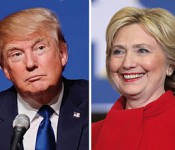 By Penny Riggs, Chair, ASAS Public Policy Committee
Sept. 26, 2016 – More than 50 of America's leading non-partisan science and engineering organizations collaborated to pose 20 questions related to science, engineering, technology, health, and environmental issues to major party presidential candidates. Four candidates, Hillary Clinton (Democrat), Donald Trump (Republican), Gary Johnson (Libertarian), and Jill Stein (G) recently responded.
These 20 questions provide more insight into the candidates' platforms regarding agriculture and science, which was the subject of a previous Taking Stock article. The questions address many topics important for animal agriculture and agricultural research, including innovation, research, climate change, water, food, and more. Full responses can be found at sciencedebate.org.
All of the candidates describe their support for the value of scientific discovery and innovation for the benefit of the US economy and overall American well-being – with each offering slightly different specific details (Q1 & Q2).
On the topic of Food, Question 12 asks, Agriculture involves a complex balance of land and energy use, worker health and safety, water use and quality, and access to healthy and affordable food, all of which have inputs of objective knowledge from science. How would you manage the US agricultural enterprise to our highest benefit in the most sustainable way?
All four candidates acknowledge the importance and value of agriculture and offer a diverse response. Both Clinton and Stein comment on the importance of small or family farms. Clinton proposes to double funding for the Beginning Farmer and Rancher Development program; and would continue federal resources in commodity payment, crop insurance, and disaster-assistance programs to support family operations.
Both Trump and Johnson place emphasis on the free market system as a driver for agriculture. Johnson would eliminate subsidies, while Trump views the production of food as an issue of national security, and would maintain federal protection against losses to nature.
Continued advances in food animal production, as a tremendous contributor to global food security, require strong American innovation and commitment to research. It's good that scientific areas important for animal science are included among these 20 questions.   However, a recent article in Modern Farmer noted that ag issues are a low priority for voters – not even making the list of topics in a Pew Poll of voters. Issues of critical importance for all of agriculture are raised in these 20 "science questions." As animal scientists we must continue to communicate the importance, value, and role of agricultural research as scientific disciplines so that more people recognize how critically important these issues are for U.S. leadership in food security, as well as for national security.
See all the questions and the candidates' answers here. What science questions do you think are most important for food security and animal agriculture that the presidential candidates should address?