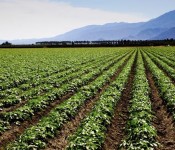 Sept. 26, 2016 – The Foundation for Food and Agriculture Research (FFAR) Board of Directors invites you to attend the Foundation's second annual Public Board Meeting Session on Wed., Oct. 5. As we celebrate the one year anniversary of our inaugural Executive Director Dr. Sally Rockey, it is energizing to reflect on the milestones we have crossed in the past 12 months. We look forward to sharing our recent progress with you, including the latest updates on current programs and the Foundation's future direction.
Please register to attend by Monday, September 26. For those unable to join us: A recap of information presented will be posted on the FFAR website immediately following the event.
Foundation for Food and Agriculture Research Public Session
When: Wednesday, October 5
1:00 – 2:00 p.m
Where: Association of Public and Land Grant Universities
1307 New York Ave NW, Washington, DC
(Enter the APLU building on H St)
FFAR extends a special thank you to APLU for providing space for this event.