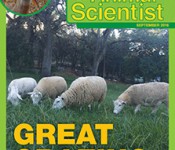 Sept. 29, 2016 – The September 2016 issue of Jr. Animal Scientist magazine will soon be in the hands of our Jr. Animal Scientist members. The issue focuses on types of rangeland grazing animals and plants, as well as the different digestive tracts of rangeland animals. The issue also includes a ruminant digestive system maze, and a fun "match-the-animal-to-its-mouth" activity. Kids also can go to AnimalSmart.org to read a fun short story about cud chewing.
Special thanks to our friends at the Society for Range Management (SRM) for contributing the content and photos for the September issue! This is the second issue made possible with the help of SRM members. Guest contributors included: Lisa Page, Sarah Noelle, Sandra Johnson, Kathleen Delzell, and Theresa Becchetti.
Be part of our outreach and education efforts by contributing content to our 2017 issues of Jr. Animal Scientist! Contact kims@asas.org with your ideas.
Jr. Animal Scientist makes a great gift for kids in K-3rd grades. Give an individual, family, or classroom/group subscription today!