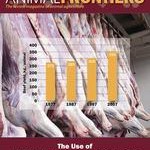 Sept. 29, 2016 – The October 2016 issue of Animal Frontiers is now available online. The theme of the issue is "The Use of Performance-Enhancing Technologies in Global Livestock Production."
Dr. Anna Dilger and Dr. Dustin Boler, both with the University of Illinois, serve as guest editors of the October issue. In addition to their editorial, the issue includes seven feature articles:
"Metabolic modifiers as performance-enhancing technologies for livestock production," by F.R. Dunshea, D.N. D'Souza and H.A. Channon.
"Performance-enhancing technologies in swine production," by Mike D. Tokach, Bob D. Goodband and Travis G. O'Quinn
"Performance-enhancing technologies of beef production," by P.E. Strydom
"Current strategies in lamb production in Mediterranean areas," by M.M. Campo, L. Mur, C.A. Fugita and C. Sañudo
"Impact of genetics and breeding on broiler production performance: a look into the past, present, and future of the industry," by Marcos A. Tavárez and Fausto Solis de los Santos
"Enhancing fish performance in aquaculture," by B.C. Small, R.W. Hardy and C.S. Tucker
"Barriers to global implementation of current and development of new performance-enhancing technologies in meat production," by Anna C. Dilger, Aubrey L. Schroeder and William M. Moseley
View the Table of Contents for the October 2016 issue.
All articles in the October 2016 issue are available online and free of charge. The issue also contains society news from the European Federation of Animal Science, the American Society of Animal Science, the American Meat Science Association, and the Canadian Society of Animal Science.