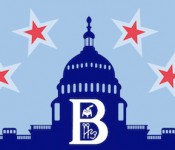 Oct. 3, 2016 – The 97th National Block & Bridle Convention will be held March 31-April 2, 2017, in Arlington, Va. The convention will be held at the Crystal Gateway Marriott in Arlington. The meeting theme is "Scientific Voice in Agriculture." Registration is now open!
The convention is co-hosted by the University of Connecticut and the American Society of Animal Science.
Housing information is available here.  Learn more about local attractions and transportation.
Here is the preliminary meeting schedule:
| | |
| --- | --- |
| Friday, March 31  | |
| Registration | 12:00 pm – 5:30 pm |
| Pride of Schools | 2:30 pm – 4:00 pm |
| Board Meeting | 4:00 pm – 5:00 pm |
| Welcome and Keynote | 5:00 pm – 6:00 pm |
| Evening DC Tour | 6:30 pm |
| | |
| Saturday, April 1  | |
| Registration | 7:30 am – 5:30 pm |
| Breakfast | 7:00 am – 8:00 am |
| Sessions | 8:30 am – 5:00 pm |
| Morning Break | 10:00 am – 10:15 am |
| Lunch with speaker | 12:00 pm – 1:00 pm |
| Afternoon Break | 2:00 pm – 2:15 pm |
| Banquet and Awards | 7:30 pm – 11:00 pm |
| | |
| Sunday, April 2  | |
| Registration | 7:30 am – 5:30 pm |
| Breakfast – Grab and Go | 6:30 am – 7:00 am |
| Tour – departure | 7:00 am |
| Closing BBQ and Entertainment | 6:30 pm – 12:00 am |
| | |
| Monday, April 3  | |
| Optional Post-meeting Capitol Hill Tour | 8:30 am – 3:00 pm |