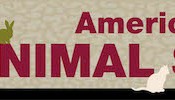 Oct. 13, 2016 – ASAS is pleased to announce the creation and launch of a new journal: Translational Animal Science: Translate basic science to industry innovation. This new journal will join the ASAS journal portfolio, increasing publications options for our members and moving ASAS further into the open-access arena. It will revolutionize the review process by introducing open review to our members. As our first step in launching, we would like the membership to vote on the cover design.
If you're an ASAS member, you should have received an email on October 7, asking you to vote for your favorite cover design for the new Translational Animal Science journal. Please check your email for this opportunity to vote.
Thank you in advance for your feedback. ASAS will keep you informed as our new Translational Animal Science journal develops.