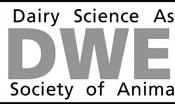 Oct. 20, 2016 – The Annual Meeting of the Midwest Branch of ADSA and the Midwestern Section of ASAS will be held in Omaha, Nebraska on March 13 – 15, 2017. Online registration is now open! Registration information can be found on the 2017 Midwest Meeting website under the registration tab. A printable registration form is also available.
ABSTRACTS
Abstracts for the 2017 meeting are being accepted through thesubmission site. The submission deadline is 11:59 pm CDT on October 26, 2016.
Visit the Midwest 2017 Meeting website often for updates:https://www.asas.org/membership-services/asas-sections/midwest-section/meetings
If you have any questions, please contact the ASAS Business Office at asas@asas.org.
Important Dates
Young Scholar Nominations Deadline
October 21, 2016
Abstract Submission Deadline
October 26, 2016
Award Nominations Deadline
November 18, 2016
Early Registration Deadline
February 13, 2017
We look forward to seeing you in Omaha!