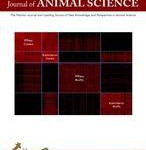 October 27, 2016 – The entire October 2016 issue (Volume 94, Issue 10) of the Journal of Animal Science is now online.
See what's Just Published.
Get the First Look at articles posted immediately following acceptance.
Visit the JAS Archives.
One of the articles under the "Rapid Communication" section title has been summarized and will be distributed via the EurekAlert science distribution system. Read the summary in this Taking Stock post.
Cover art: Heat map of the 492 x 492 hybrid genomic relationship matrix with the 2 populations clearly demarked. Learn more in Vol. 94 No. 10, p. 4096-4108.