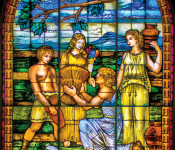 By Dr. Cassie Welch, ASAS Public Policy Committee
Nov. 1, 2016 – The World Food Prize hosted its annual Borlaug Dialogue in Des Moines, Iowa, on October 12-14. This year's event focused on the theme "Let Food Be Thy Medicine" and celebrated the 30th anniversary of Dr. Norman E. Borlaug establishing the World Food Prize. The international symposium brought together world leaders, policy makers, business executives, scientists, and farmers to address critical issues surrounding global food security. During the symposium week, the World Food Prize also coordinated a number of side events, including the Global Youth Institute. Exceptional high school students and their teachers from the United States and other countries participated in the institute, whereby student delegates discussed solutions to global food security issues, networked with global food security experts, and toured agricultural industry and research facilities in Iowa.
The World Food Prize has come to be known as the "Nobel Prize for Food and Agriculture," because it recognizes the accomplishments of individuals who have made a significant impact on human development by improving the quality, quantity, or availability of food in the world. The 2016 World Food Prize Laureates – Drs. Maria Andrade, Robert Mwanga, Jan Low, and Howarth Bouis – developed and implemented the most successful example of micronutrient and vitamin biofortification – the orange-flesh sweet potato. Their efforts have led to the enhanced nutrition and health of more than 10 million people and the potential to reach millions more with biofortified crops in the coming years.
To read more about the four distinguished Laureates and their work, click here.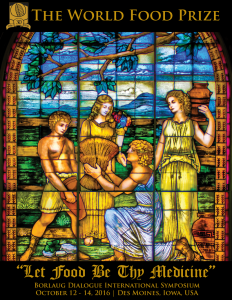 The Norman Borlaug Award for Field Research and Application is also presented each year in conjunction with the World Food Prize award. The award honors an individual under 40 who best represents the dedication, perseverance, and innovation demonstrated by Dr. Norman Borlaug while working directly "in the field." The 2016 recipient, Dr. Andrew Mude, is a senior economist at the International Livestock Research Institute in Nairobi, Kenya. He has spent years developing a program to provide insurance to livestock herders in never-before-insured communities of the remote, arid, and drought-prone lowlands of the Horn of Africa. His efforts have allowed millions of poor herders to quickly recover from catastrophic droughts, which account for approximately 75% of livestock deaths in the region and often leave communities destitute. To read more about Dr. Mude and his work, click here.
Additional discussion topics and highlights of the symposium include:
Ambassadors and leading foreign policy officials examined connections between national security and food security in high-conflict regions of the world
Business executives of leading agricultural industry companies shared efforts to spur innovation toward enhancing nutrition and confronting climate volatility
Representatives of public universities discussed how institutions are confronting the grand challenge of global food security
African women leaders provided insight as to how agricultural transformation is occurring in Africa via science and innovation
The World Food Center at the University of California-Davis presented information regarding the availability of a healthy global diet and progress on food and nutrition security
Visit https://www.worldfoodprize.org to learn more about the World Food Prize and Dr. Norman E. Borlaug.